Wow. I started this sweater on the 11th? I thought I had only spent a week on it, but yeah I guess it was two. The first week was for the back. Anyway, it's done. I spent the past week knitting like mad. I knit at night until I couldn't keep my eyes open any longer. Thursday night I stayed up til 3:30 knitting and then woke up to finish at 8:30. It was insane. But I finished it and I'm very proud of it. I blocked and seamed on Friday, the day before graduation. But it is my first real knitted garment.
Blocking...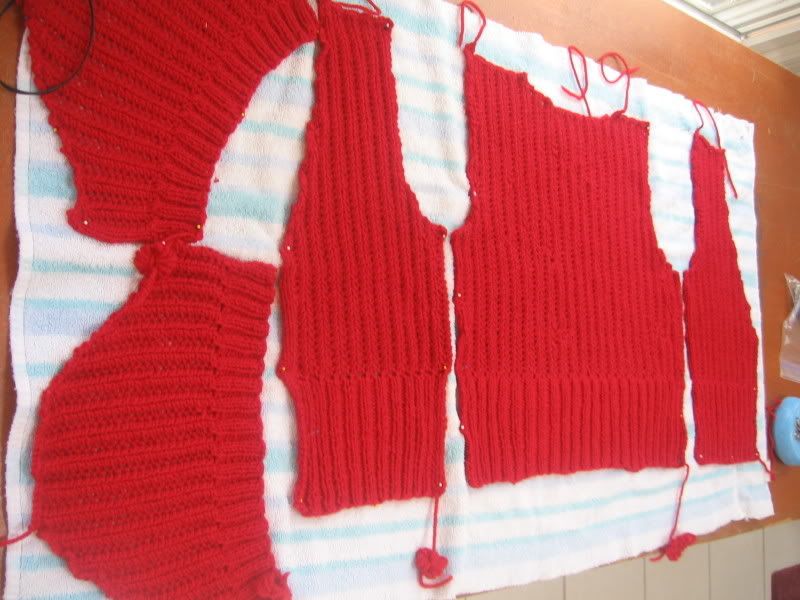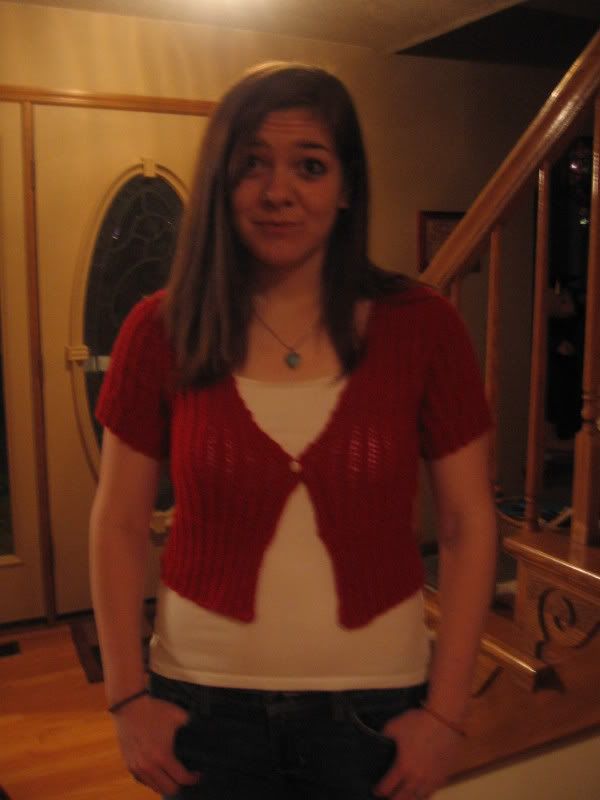 I don't have any pictures of me with it and the dress, but it looked good. I also had red shoes.
Knitty's Spring Fling
Yarn: something cheap and wool from Michael's.
Needles: US4 (I should've done the sleeve ribbing on smaller needles however)
I used a button instead of a hook and eye, even though I went out and bought some hook and eyes. I like how the white button looks though.
There are a few spots in the back where you can tell there are some mistakes, but other than that I think it's okay. It fits very well.
I don't know what's next actually. I may go back after the Hug. Right now though, I need a couple days break. My Grandma has requested that I knit something for her, and so I may end up knitting dishcloths for the family. I still have three unused Sugar'N Cream. I have also been eyeing Katie's new
razor cami.
And there's so much more.
And I finally finished my Isabeau purse. All I had to do was sew in the lining and I did that on Friday too so I could use it on grad day. I will have pictures at some point. It really is the perfect size and I like it a lot.
Mom had said that I may be getting some needles or a nice lys gift card for graduation from people, but it didn't show up, so I think I will just go out and buy what I want. I think I will pass on getting one of those big interchangable needle kits and just get the individual interchangable ones when I need them. They have them at Hobby Lobby, but not Michaels I think.
Okay that is all.